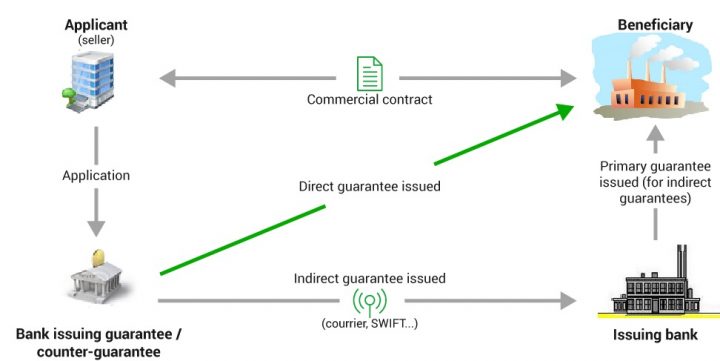 Beneficiary:
The beneficiary is the person who has authority to draw on the bank guarantee in the event that the bank's client fails to make payment. The beneficiary is named specifically on the bank guarantee, and can claim the full value of the bank guarantee at such time as he or she makes proper claim that they have not received payment for the provision of goods or services.
Issuing Bank:
The issuing bank is the bank which is providing the guarantee to the beneficiary, on behalf of their client. The issuing bank is legally required to make full payment on the bank guarantee if the conditions laid out in the bank guarantee are met.
Bank guarantees can be used in a variety of ways to cover different trading scenarios. The following are three types of guarantee usage which range from being so common as to be standard practice in international goods trading, to being relatively rare.
Payment Guarantee:
A payment guarantee is simply an assurance provided by the buyer to the seller that payment will be made upon shipping of goods. This is the most common form of bank guarantee usage in the global  trading industry, and buyers can expect most sellers to request a bank guarantee for the purpose of securing payment in the case of the buyer defaulting on the contract.
Performance Bond Guarantee:
A performance bond guarantee is a bank guarantee which is issued by the seller and given to the buyer. If the seller fails to meet the terms of the contract, then the buyer is entitled to claim payment on the bank guarantee, which is normally around ten percent of the total value stipulated on the contract. It is standard practice for the seller to issue the buyer a performance bond guarantee.
Advance Payment Guarantee:
If the seller has requested an advance payment, then the buyer can request a bank guarantee to cover the advance payment in the event that the seller fails to fulfill its obligations as stipulated in the contract. This is rarely needed in sugar trading, as payment is usually made by a letter of credit, under which payment is only made to the seller in the event that the conditions of the contract are fulfilled.